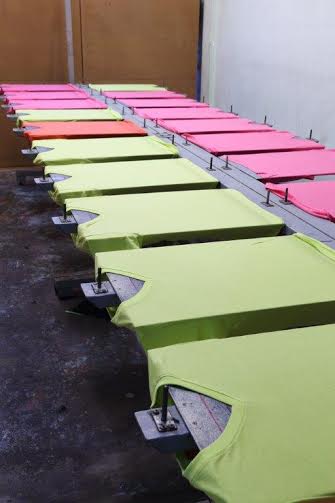 Silk Screen printing is a method of stencil resist printing where ink or pigment is pushed through mesh fabric with an ink blocking stencil on it. This method was developed in ancient China, and the mesh fabric was originally made of silk, but today the fabric is produced in Switzerland and made of high quality polyester. The silk screen process creates a consistent, clean and professional look for your logo or art. Digital printing offers the same initial impression; however, the durability is still a challenge.
Our specialty is custom apparel and light industrial silk screen printing applications. Our production department offers flexibility due to our equipment, staff and management. We offer hand printing as well as semi-automated silk screen printing depending on the volume and number of colors in your art. We print on a vast assortment of fabrics and garments such as athletic fabrics and team uniforms, tee shirts, jackets, sweat shirts, fleece, tote bags, briefcases, polypropylene bags, polo shirts, denim shirts, twill shirts, boxer shorts, bandanas and more…
We are experts in color separation, four color process printing, printing on darks and special effects. We feature Pantone Match System inks, low odor solvents, discharge ink and special image placement.
We Recycle & Re-use. For instance, we make every effort to reuse boxes and packaging to reduce any associated costs.
Private Label: We offer private labeling on garments. We can replace tags and labels with your woven or printed labels or we can make tag-less labels with either heat transfers or direct print. Build your brand. We can help.
Other finishing services: Includes individual garment folding and poly bagging, hang tags, product trimming, custom packaging, boxing, warehousing and fulfillment. We ship worldwide via truck, LCL, FCL, UPS, FedEx, DHL or USPS.
Need to know more? Want to place an order? Contact us today! Call 800-567-7833 or email screenprint@corpimagesapparel.com  or send a fax to 303-293-0091 with your basic info.
Here is what you should provide to make the process easier:
When and how can we get in touch with you?
When do you need the goods in your hands? Is this a RUSH ORDER?
Is this a will-call pick up? If you need us to ship you order, what is the ship-to address?
What style and brands you prefer? What color do you want the garment to be? – We have brands to match your needs and budget. If you are not sure we can mail a catalog or email options to you. We have thousands of options.
Will the order consist of adult sizes only? What is the size range? – Size matters because it affects the overall dimensions of your final artwork.
Where is the printing going to be on the garment or item? How large is the design to be printed on the garment or item?
How many colors are in the artwork? – Do you have artwork? Please look at our art requirements. Do you still need help? Send art and instructions or questions to design@corpimagesapparel.com
What is the quantity?
Will this be something that you will re-order?
All these questions will keep your life simple and organized throughout your project, so sit back and let us do the work.